Reggae Legends Edition | Jamaican Ludo Board Game
Authentic Game Board – Buy with confidence knowing you've invested in a quality product with lifetime phone support.
All Accessories Included

FREE

– 16 Game piece, 2x Dice, Pouch, Game Manual, Storage Draw String Bag!
FAST Shipping – We ship every 2 days! (Excluding Weekends)
30 Day Warranty – We will replace or refund any boards that are incomplete or in error based on a manufacturer's defect!
Loyalty Program – For every 3 boards you purchase, you get a 4th board FREE!
| | |
| --- | --- |
| Weight | 5 lbs |
| Dimensions | 24 × 24 × 1.5 in |
Description
Who Is Bob Marley?
In 1963, Bob Marley and his friends formed the Wailing Wailers. The Wailers' big break came in 1972 when they landed a contract with Island Records. Marley went on to sell more than 20 million records throughout his career, making him the first international superstar to emerge from the so-called Third World.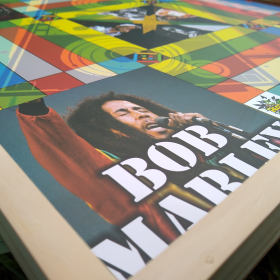 Early Life
Born on February 6, 1945, in St. Ann Parish, Jamaica, Marley helped introduce reggae music to the world and remains one of the genre's most beloved artists to this day. The son of a Black teenage mother and much older, later absent white father, he spent his early years in St. Ann Parish, in the rural village known as Nine Miles.
One of his childhood friends in St. Ann was Neville "Bunny" O'Riley Livingston. Attending the same school, the two shared a love of music. Bunny inspired Marley to learn to play the guitar. Later Livingston's father and Marley's mother became involved, and they all lived together for a time in Kingston, according to Christopher John Farley's Before the Legend: The Rise of Bob Marley.
Legacy
Marley achieved several great accomplishments during his lifetime, including serving as a world ambassador for reggae music, earning induction into the Rock and Roll Hall of Fame in 1994, and selling more than 20 million records—making him the first international superstar to emerge from the so-called Third World.
——————————————-
Reggae singer Beres Hammond grew up listening to his father's Otis Redding, Sam Cooke, and Marvin Gaye records, while also immersing himself in Jamaican ska and rocksteady.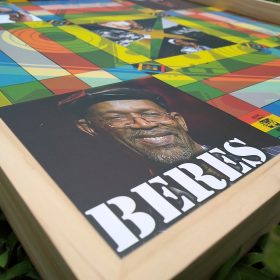 ∙ In 1975, Hammond joined the band Zap Pow and sang lead on their Jamaican hit "System."
∙ While a member of Zap Pow, he also pursued a solo career, scoring his first big hit with 1976's "One Step Ahead."
∙ Hammond used his self-titled 1986 album to pivot from roots reggae to dancehall, and he had a pair of No. 1 Jamaican hits with "Groovy Little Thing" and "What One Dance Can Do."
∙ "Tempted to Touch" was the best-selling Jamaican single of 1990, even though Hammond wrote its lyrics on deadline in only a half-hour.
∙ In 2013, Hammond was awarded the Order of Jamaica, the country's equivalent of a knighthood.
—————————————
Sizzla was born in Kingston, Jamaica, to devout Rastafarian parents. Like them, Sizzla subscribes to the Bobo Ashanti branch of the Rastafari movement. He was raised in August Town, Kingston, Jamaica where he studied mechanical engineering at Dunoon High School.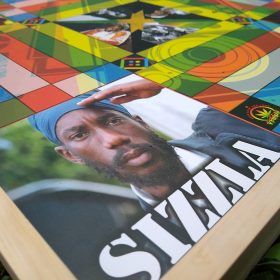 Career
Sizzla began to develop his own style whilst serving his musical apprenticeship with the Caveman Hi-Fi sound system. He has used his music as a vehicle for his message, kickstarting his recording career in 1995 with a release through the Zagalou label, he then teamed up with "Bobby Digital" Dixon for a series of singles. Extensive touring with fellow Xterminator label mate roots and culture artist Luciano followed, earning Sizzla notoriety .
Judgement Yard
Judgement Yard was established as a community centre in August Town, an eastern suburb of Kingston, Jamaica, by Sizzla Kalonji. Although Judgement Yard is an organisation of sorts, it is also a geographic location at 41 August Town Road, which is where Sizzla maintains one of his residences. Judgement Yard is also the home of Kalonji's state of the art studio, as well as his record label, Kalonji Records. As the owner and founder of the Yard, Kalonji is responsible for many youths in the community of August Town, as well as youths who come from other areas to seek assistance and guidance in life as well as music. He is an influence to many. Many of these same youths who are members of Judgement Yard fraternity are musicians or have some direct affiliation with the music through production works, artiste works, etc. Sizzla has recorded songs with the prominent artists in Judgement Yard, Joseph Shepherd, Bobo David and G-Mac.
Zimbabwe
In February 2010, Sizzla travelled to Zimbabwe to perform at the 86th birthday celebration of former Zimbabwean President Robert Mugabe. There was a near-riot during his performance, including beatings of crowd members by police, causing Sizzla to temporarily halt his performance and ask the police to cease the beatings.
Later that year, Sizzla was "rewarded" with a farm in the country, with the artist stating he was "here to stay" in Zimbabwe. He also voiced plans to begin an agro-business and build a recording studio in the country. The moves were not without controversy, particularly among Mugabe detractors who insisted he not perform for the President. Sizzla refused to condemn Mugabe post-performance, while insisting the land he received was not a reward from the Zimbabwean government, but given to him by the local people in appreciation for his performance. He also stated plans to eventually make Zimbabwe his permanent home.
====================================================
Mark Anthony Myrie (born 15 July 1973), professionally known by his stage name Buju Banton, is a Jamaican reggae dancehall recording artist. He is widely considered one of the most significant and well-regarded artists in Jamaican music. Banton has collaborated with many international artists, including those in the hip hop, Latin and punk rock genres, as well as the sons of Bob Marley.
Banton released a number of dancehall singles as early as 1987 but came to prominence in 1992 with two albums, Stamina Daddy and Mr. Mention, the latter becoming the best-selling album in Jamaican history upon its release. That year he also broke the record for No. 1 singles in Jamaica, previously held by Bob Marley and the Wailers. He signed with the major label Mercury Records and released Voice of Jamaica in 1993. By the mid-1990s, Banton's music became more influenced by his Rastafari faith, as heard on the seminal albums 'Til Shiloh and Inna Heights.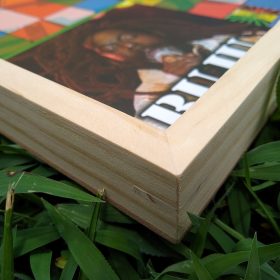 Early career
As a youngster, Buju would often watch his favourite artists perform at outdoor shows and local dancehalls in Denham Town. At the age of 12, he picked up the microphone for himself and began toasting under the moniker of Gargamel, working with the Sweet Love and Rambo Mango sound systems. In 1986, he was introduced to producer Robert Ffrench by fellow deejay Clement Irie, and his first single, "The Ruler" was released not long afterward in 1987. This led to recording sessions with producers such as Patrick Roberts, Bunny Lee, Winston Riley, and Digital B.
1990s
In 1991, Buju joined Donovan Germain's Penthouse Records label and began a fruitful partnership with producer Dave Kelly who later launched his own Madhouse Records label. Buju is one of the most popular musicians in Jamaican history, having major chart success in 1992, with "Bogle" and "Love me Browning", both massive hits in Jamaica. Controversy erupted over "Love Me Browning" which spoke of Banton's penchant for lighter-skinned black women: "Mi love my car mi love my bike mi love mi money and ting, but most of all mi love mi browning." Some accused Banton of denigrating the beauty of darker-skinned black women. In response, he released "Love Black Woman," which spoke of his love for dark-skinned beauties: "Mi nuh Stop cry, fi all black women, respect all the girls dem with dark complexion". 1992 was an explosive year for Buju as he broke Bob Marley's record for the greatest number of #1 singles in a year. Buju's gruff voice dominated the Jamaican airwaves for the duration of the year. Banton's debut album, Mr. Mention, includes many of his greatest hits from that year including "Bonafide Love" featuring Wayne Wonder, the singer who first brought Buju out as a guest star on the annual Jamaican stage show Sting. 1992 also saw the unsanctioned re-release of "Boom Bye Bye," a controversial song recorded several years earlier when the artist was 15 years old, which resulted in a backlash that threatened to destroy his career. several years later, the song would later become the subject of outrage in the United States and Europe, leading to Banton being dropped from the line-up of the WOMAD festival as well as numerous other scheduled performances. Banton subsequently issued a public apology.
2000s
Buju Banton performing in 2007.
Buju signed with Anti- Records, a subsidiary of Brett Gurewitz's Epitaph Records, and released Unchained Spirit in 2000. The album showcased diverse musical styles, and featured guest appearances by Luciano, Morgan Heritage, Stephen Marley, and Rancid. It carried little of the roots feel heard on Til Shiloh and virtually none of the hardcore dancehall sound which had brought him to public acclaim early in his career.
Several singles followed in the start of the new decade, which was perceived as more mellow and introspective, as opposed to the dancehall approach of his early career. In March 2003, Banton released Friends for Life, which featured more sharply political songs, including "Mr. Nine", an anti-gun song that was a hit in Jamaica's dancehalls as well as internationally. The album focused on political messages regarding the African diaspora, featuring excerpts from a speech made by Marcus Garvey. "Paid Not Played", also featured on the album, displayed a gradual return to the themes more popular in dancehall. The album also featured some hip hop influence with the inclusion of rapper Fat Joe.
2010s
On 13 February 2011, one day before the scheduled start of his second court trial in Tampa, Florida, Buju Banton's Before the Dawn album was announced as the winner of Best Reggae Album at the 53rd Annual Grammy Awards.
Upon his release from prison in the United States in December 2018, Banton started The Long Walk To Freedom tour and performed his first concert at National Stadium in Kingston, Jamaica in March 2019, the concert attracted over 30.000 people. During his tour, he continued putting out new music and new singles including Bagga Mouth, False Pretense, and Country for Sale.
In May 2019, Banton released Country For Sale, the song topped the iTunes Reggae Chart within minutes after the announcement of its release. The song was recorded at the Gargamel Music Studio, Donovan Germain's own recording studio in the Corporate Area. On 12 November of the same year, he released his first official music video entitled "Trust". The video marked the first anniversary of Banton's release from prison and was produced in collaboration with Dave Kelly and directed by Kieran Khan. The track peaked at number 1 on the Billboard Reggae Digital Song Sales chart.
Banton announced his partnership with Jay-Z's Roc Nation in November of that year, becoming the second Jamaican reggae artist be represented by the agency, which coincided with the release of his music video Steppa. He also announced that Island Records will be the distributor of the collaboration's new music.
2020s
In January 2020, Buju was featured on the Bad Boys for Life (soundtrack) which was produced by DJ Khaled. His song titled "Murda She Wrote" was a nod to a 1992 dancehall classic called "Murder She Wrote" by Jamaican reggae duo Chaka Demus & Pliers.
On 29 February 2020, Buju produced the Steppaz Riddim under this own Gargamel Music label. The riddim, released under Roc Nation, featured 11 tracks and included contributions from Vershon, Delly Ranx, Agent Sasco, Bling Dawg and General B.
Banton released his 13th studio album and his first in a decade, Upside Down 2020 on 26 June 2020. The album includes guest appearances from John Legend, Pharrell, Stefflon Don and Stephen Marley.
========================================================================
Each culture modified the game into a more fun past time for family and friends. In Jamaica, the flavor of this game is even more fun and addicting. Larger game board and playing space allowing for unlimited variations. Various modes of play, from strategy to just pure fun! Different modes of game-play listed in the accompanying manual. Very easy game to play and enjoy.
SHIPPING POLICY
RETURNS & REFUNDS
| | |
| --- | --- |
| Weight | 5 lbs |
| Dimensions | 24 × 24 × 1.5 in |